What to Do After a Car Accident in Oklahoma
Posted on: June 3, 2020 by Tony Edwards
Being involved in a car accident is a frightening experience, especially if you or someone else gets hurt. The steps you take in the moments after a crash will be very important if you ever need to bring an injury claim against the at-fault driver(s). You can count on insurance companies to look for any reason to avoid paying you full and fair compensation.
To help protect a future legal claim, Edwards & Patterson Law has put together the following advice about what to do after an accident in Oklahoma. Read below or contact us for a free consultation with an experienced car accident lawyer.
Dos and Don'ts After an Oklahoma Car Accident
Your actions immediately after a crash can go a long way to help or hurt your case. Knowing what to do and what to not to do at the scene may not quickly spring to mind. Consider these tips:
DO stay calm. Car accidents are disorienting. Take a few moments to check if you are injured. Is anyone else hurt? Are you in the way of oncoming traffic?
DO call 911 for emergency help. Getting paramedics and law enforcement to the crash site will ensure that everyone gets the medical attention they need and that the scene is secure.
DO collect as much evidence as possible. Photos are invaluable pieces of evidence. Get pictures of the accident scene from different angles. Take shots of the vehicle damage.  Look for other signs of physical evidence to tell the story of the accident, such as bloody clothing, open containers of alcohol, or road debris that may have contributed to the crash.
DO get a copy of the police report. These reports are often inadmissible in court because they are considered hearsay. However, they are very helpful when dealing with the insurance company and trying to prove your claim.
DO gather witness information: Eyewitnesses are considered objective third parties to accidents. Their statements are weighed heavily and can be very effective when proving your claim.
DO seek medical attention. Get checked by a doctor, even if you don't feel hurt. Some injuries do not show up right away. Seeking immediate treatment also shows the insurance company that you did everything possible to avoid worsening your injury(s).
DO obtain copies of your medical records: Medical reports and bills can verify the extent of your injuries and the costs associated with treating them.
DO keep all pay stubs: You can recover compensation for lost wages after a car accident. Pay stubs can show the income you received before the crash and what you have now lost.
DO report the accident to your insurance company. You should only tell them where and when the accident happened.
DO contact a skilled Oklahoma car accident attorney immediately. A lawyer can take over all communications with the insurance company so you can focus on healing.
Here's what to avoid:
DON'T refuse medical treatment. Take an ambulance ride if it's recommended. Your medical reports will form the basis of your injury claim, so refusing medical care will not work in your favor.
DON'T admit fault. You shouldn't speculate about who is to blame to the police or the insurance company. Even a simple "I'm sorry" could be used against you in a claim for compensation.
DON'T agree to give a recorded statement. Your claim will be assigned to an insurance adjuster who will investigate the accident. Don't agree to give a recorded statement or sign anything until you've consulted with a knowledgeable attorney.
DON'T accept the first settlement offer you receive. Most initial settlement offers will be for far less than what you deserve. Let a lawyer help you negotiate for maximum compensation.
DON'T ignore doctor's orders. Go to every follow-up appointment. These actions will show the insurance company that you did everything possible to assist in your recovery.
DON'T post about the accident on social media. Insurance adjusters will look to your social media for evidence showing that you aren't as injured as you claim to be. Posting a photo of yourself dancing when you were supposed to be off your feet can seriously damage your claim.
What if the Accident Was Partly My Fault?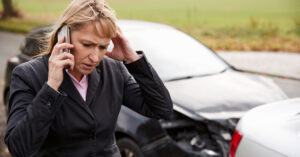 Oklahoma is one of many states that follows a modified comparative negligence rule. This means that you may still be able to collect a portion of compensation as long as you were less than 50 percent at fault for the accident. If you are found partly at fault, the insurance company or the court will then assign you a percentage of fault. Your ultimate award will then be reduced by the same percentage.
It's guaranteed that the insurance company will try to avoid making a full and fair settlement by trying to push fault on to you. That's why it's so important to work with a skilled car accident attorney. A lawyer can ensure that you aren't unfairly blamed for the crash.
Is There a Statute of Limitations for Filing My Accident Claim?
The statute of limitations on nearly all car accident lawsuits in Oklahoma is two years from the date of the crash. If the wreck was fatal, a personal representative from the accident victim's estate has two years to file a wrongful death claim.
It is crucial to file your car accident claim before the statute of limitations expires. If you do not, you will likely be barred from compensation forever, with narrow exceptions.
What are the Most Common Causes of Accidents?
Car accidents in Oklahoma occur for a wide variety of reasons. These include:
Distracted driving
Drunk driving
Speeding
Reckless driving
Failure to yield
Tailgating
Unsafe lane changes
Failing to obey traffic signs and signals
Vehicle malfunctions
Poor road conditions
Bad weather
In order to win an injury claim, you must be able to show that the other party acted negligently. Drivers have a duty to operate their vehicle safely at all times. When they fail, they can be held liable for their actions.
What Should I Do if My Accident Prevents Me From Working?
If you were in a car crash and could not return to work, it's very important to speak to a car accident lawyer. Lost wages are compensated in a car accident claim, including any future lost earnings if you are permanently disabled. You can also demand compensation for lost earning potential if your injuries will prevent you from returning to a job that paid as much as you earned before the crash. A lawyer can also advise on any other compensation you can include in your claim including lost benefits, sick days, and vacation days.
Our Oklahoma Car Accident Lawyers Can Help with Your Case
The car accident attorneys at Edwards & Patterson Law understand how traumatic a car accident can be. We also know how to hold reckless parties accountable for their actions. If you've been hurt in McAlester, Tulsa, or anywhere in Oklahoma, call or contact us online today to schedule a free consultation.

Tony Edwards is a McAlester native who has practiced civil litigation in Oklahoma for nearly four decades. Tony earned his undergraduate degree from East Central University and his law degree from the Oklahoma University College of Law. Today, he focuses his practice exclusively on the representation of accident and injury victims, including mass tort cases involving defective products. He holds an AV rating from Martindale-Hubbell, indicating the highest level in legal ability and ethical standards. In addition to his law practice, Tony serves as an elder in Lakewood Christian Church and is active in Shared Blessings, an organization which his wife, DeVonna, launched in 1998 to provide clothes for people in need.