A Look at Lane-Changing Accidents in Oklahoma
Posted on: May 20, 2020 by Tony Edwards
Every driver must use caution and reasonable care when driving on Oklahoma's roadways. Unfortunately, reckless lane changing often leads to collisions and injuries. The Oklahoma Highway Safety Office (OHSO) reported that improper lane changes caused more than 3,860 car accidents in Oklahoma in a recent year.
Lane-change accidents are so frequent that the Oklahoma City government passed Ordinance No. 25,204 to help reduce lane-changing accidents. The ordinance requires a driver to signal his or her intent to change lanes at least 100 feet in advance.
In addition, drivers should always move smoothly into the center of the lane after changing lanes while maintaining space in the flow of traffic so that another vehicle does not have to slow down, accelerate, or quickly change lanes to avoid a crash.
Failing to check mirrors, merging at an unlawful speed, weaving through traffic, and cutting off other drivers are all driver errors that may cause a lane-change accident.
Examples of unsafe lane changes include:
Not using a signal when making a lane change
Making a lane change while driving recklessly or at a high speed
Making a lane change at a red light or stop sign
Driving for an extended period while straddling lanes
Changing lanes on curves where motorists do not have visibility for an adequate distance
At Edwards & Patterson Law, our Oklahoma lane-changing accident lawyers help accident victims hold negligent drivers accountable for the harm they cause. We have represented clients throughout Oklahoma who were injured in improper lane-change accidents. Our knowledgeable personal injury attorneys are ready to help you pursue full compensation for your injuries.
Call us today at 877-405-0216 to schedule a free, no-obligation consultation.
What Are the Consequences of a Lane-Change Accident?
The injuries resulting from a lane-changing accident can be very serious and even fatal. Common injuries include:
Traumatic brain injuries (TBIs)
Brain hemorrhage
Spinal cord injuries
Facial injuries
Rib and torso injuries
Paralysis
Whiplash
Cuts, bruises, and lacerations
Broken bones
Burn injuries
Internal injuries
It's important to seek medical care immediately following an accident, as symptoms may take hours, days to manifest. A trained health care provider may be able to symptoms of injuries such as head injuries before they are apparent.
How Is Fault Proven During a Lane-Change Accident?
In most cases, the individual making the lane change will be the one at fault for the lane-change accident. This is because they had the duty to determine the safety of the move before performing it. Sometimes distracted drivers merge into another lane without adequately checking to see if it was safe, or they may cut off another driver without worrying about the consequences.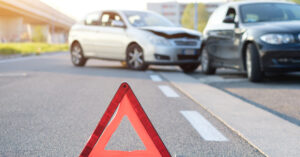 All types of unsafe driving can lead to being at fault for a lane-change accident. Drivers have a duty to exercise caution to avoid endangering others. If a driver fails to use caution and makes improper lane changes, the driver may be at fault for the resulting accident.
Your lawyer will need to prove fault by examining all the evidence. This could require using witness testimony and hiring accident reconstruction specialists. If one driver was negligent during the lane-change accident, that driver could be liable for damages. While the driver making the lane change will most likely be liable for damages, not all accident cases are clear-cut. For instance, many lane-change accidents involve two vehicles changing lanes at the same time and colliding. In these cases, it can be difficult to identify the at-fault party.
Oklahoma is a modified comparative fault state, which means an insurance company could argue you were mostly to blame for an accident and deny your claim. They could also assert that you shared fault in order to reduce the amount of any claim settlement you are due.
If you've been involved in a lane-change accident in Oklahoma, it is important that you answer the investigating police officer's questions. Provide the fact of the accident as you saw them, but do not assign blame to others or accept blame yourself. You may not have a full understanding of the events leading to the accident, so you should not admit fault for the crash.
What Are the Most Common Types of Accidents Caused by Improper Lane Changes?
Lane changes are among the top causes of car accidents in Oklahoma and throughout the country. The most common types of accidents caused by improper lane changes include:
Sideswipes/side-impact accidents
Rear-end collisions
Off-road accidents
Rollovers
Front end accidents
Lane-change accidents are more serious than many people realize. Usually, the lane change that causes an accident is one made abruptly. It may affect multiple vehicles.
If I Was Involved in an Improper Lane-Change Accident, What Do I Need to Prove to Win My Case?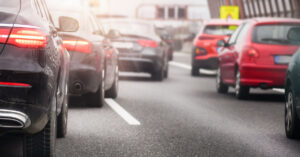 The experienced Oklahoma car accident lawyers of Edwards & Patterson Law will conduct a thorough investigation of your lane-change accident. An investigation can reveal evidence that establishes a driver's fault. When a driver fails to comply with their legal duty to drive with reasonable caution and causes a lane-change accident, the drive is deemed to be at fault and can be held liable.
At Edwards & Patterson Law, we negotiate aggressively with insurance companies for the full and fair compensation for your medical expenses and accident-related losses.
To win your case, you must prove that the driver who caused your accident was negligent. Common factors that may indicate negligence and fault for a lane-change accident include:
Driving reckless or negligently
Speeding
Following too closely
Tailgating
Drunk or drowsy driving
Driver fatigue
Failure to check blind spots
Failure to signal
Attempting to change multiple lanes
Our attorneys will investigate your case and work to establish the at-fault driver's liability for your injuries.
Contact an Oklahoma Lane-Change Accident Attorney
If you have been seriously injured in a lane-changing accident in Oklahoma that was not your own, the experienced personal injury lawyers at Edwards & Patterson Law are ready to help. Call our office today 877-405-0216, or use the online contact form on our website, to schedule a free and confidential consultation.
Allow the skilled Oklahoma car accident lawyers at Edwards & Patterson Law to help you pursue just compensation for your injuries. We will fight for the maximum compensation to cover all your medical bills, car repairs, and other expenses. Our Oklahoma personal injury attorneys work on a contingency fee basis, which means you won't owe us a dime until you recover compensation.

Tony Edwards is a McAlester native who has practiced civil litigation in Oklahoma for nearly four decades. Tony earned his undergraduate degree from East Central University and his law degree from the Oklahoma University College of Law. Today, he focuses his practice exclusively on the representation of accident and injury victims, including mass tort cases involving defective products. He holds an AV rating from Martindale-Hubbell, indicating the highest level in legal ability and ethical standards. In addition to his law practice, Tony serves as an elder in Lakewood Christian Church and is active in Shared Blessings, an organization which his wife, DeVonna, launched in 1998 to provide clothes for people in need.